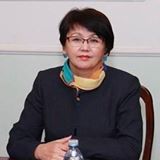 Faculty of post-graduate education is an organizer of educational activities of magistracy and doctorate of university. Faculty of post-graduate education obeys the vice-president for Academic Affairs, the vice-president for Research and works closely with the academic council, research methodology council of university, educational faculty, faculties, chairs, methodical associations and councils, and other subdivisions of university. Control and coordination of faculty activities are implemented by the vice-presidents for Academic Affairs and for Research of the university. Leadership of managing is carried by the Head who is confirmed by the rector of university. MPGE is guided with the orders and regulatory documents of MES RK, State general binding standards of education on specialties of magistracy and doctorate, sample programs, curriculum and plans, regulatory documents on educational process, charter of KazUIRandWL, orders of university and thesis of MPGE.
Magistracy
 PhD
6D021000 - Foreign philology
6D011900 - Foreign language: two foreign languages
6D020200 - International Relations
6D020700 - Translation Studies
The goal of faculty of post-graduate education is:
-  developing effective postgraduate education with demanded programs and innovative technology of training;
- integration in international processes - connecting international standards and demands with national educational systems;
- organize educational activities of double level post-graduate education with the aim of preparing specialists with the respective profiles.
Main tasks and functions of faculty:
-  identify educational priorities in accordance to the main tasks of state program to develop education till 2020, and the strategy of developing university till 2020;
carry out organization of elaborating regulatory planning and scientific-methodical documents on educational programs (curriculums, individual educational programs, syllabus and others) in accordance to the SES of post-graduate education, rules and recommendations of MES RK; create the condition for undergraduates, PhD students and teaching staff to having academic mobility;                         
fulfill monitoring of resource base condition for organizing scientific-research work (library, methodical, informative) and marks which gained by graduates and their academic degrees;
provide fulfilling the demands in validation;
provide the interaction between learners and supervisors in investigating work;
coordinate activities of profile Chairs by implementing educational and scientific processes in preparing specialists;
conduct adequate teaching-productive and scientific documents.
The Faculty includes the department of postgraduate education:
- Dean of the Faculty - Kulipa Sharipkanovna Baisultanova Candidate of Political Sciences, Professor
- Head of the department of postgraduate education - Doctor of Economic Sciences, Professor Uspanova Mayra Ualievna
- leading specialist in charge of organizaciju educational process - Тaurbekova Laura Kuanyshbekova