International Tourism management department
Field of education: 6В111 Service sector
Group of educational programs: 6В091 – Tourism
Code of the educational program: 6В11101 Tourism
Academic Degree: Bachelor in Services
Member of international and national associations:
EURHODIP –The Leading Hotel School in Europe (Belgium)
KTA - Kazakhstan Tourism Association
KAGIR - Kazakhstan Association of Hotels and Restaurants
Training specialists with knowledge of a foreign language in the following areas: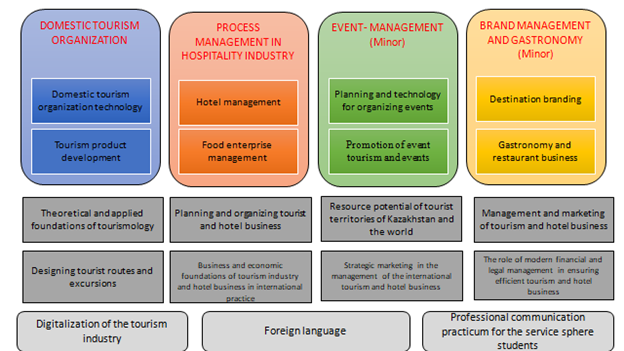 The uniqueness of the program is being aimed at providing students with the skills of setting up and managing a tourism business, of exploring the potential of the domestic tourism industry - i.e. the emphasis on the development of research and business skills, training of managers, primarily for domestic and international tourism.
The main tasks of a bachelor in services of EP 6B11102 Tourism are:
organization and management of work on the provision of tourist services in various areas of the tourism business
forecasting and planning activities of tourist structures
marketing research on the development of new ideas and tourism services in the domestic and foreign markets
applying methods of taking effective management decisions to improve financial stability, substantiation of the economic feasibility of opening a tourism and hotel business enterprise
organizing advertising campaigns to promote a tourist product
conducting scientific research on the current state of the tourist services market
conducting studies of the prospects for the development of tourism in the regions of Kazakhstan, taking into account their natural, climatic, geographical and national characteristics
condition assessment of the tourist regions and the importance of tourism business in Kazakhstan
Internship in:
travel companies and firms
hotel complexes in Almaty and Kazakhstan
hotel complexes in Turkey
Academic mobility:
University of Applied Sciences (ISMA) (Riga, Latvia)
Inholland University of Applied Sciences (the Netherlands)
Sphere of professional activity
Tourist enterprises of various forms of ownership, republican and international tour operators and travel agencies, accommodation enterprises, museums, sanatoria and resorts, government agencies, public organizations, republican and international exhibition centers, secondary vocational training centers, children's and youth active tourism centers.
Employment of graduates:
tourism manager with a focus on management activities (management of tourism enterprises, hotel facilities, catering enterprises, airlines)
tour guide
tourist instructor
head of a tourist group
employee / head of the tourism department in local executive bodies
manager of international and domestic tourism
guide-interpreter
event organizer
brand manager
marketers and heads of marketing departments of travel companies and the hospitality enterprises
managers of advertising services of tourist enterprises
managers of various services of tourist, hotel and restaurant complexes
specialists in government bodies involved in the development of tourism, tourism consulting companies, marketing services of tourism enterprises, tourism and sports sectors of economy
Foreign language (English) is taught in accordance with Common European Framework of Reference for Languages (CEFR), the second foreign language is taught on a fee-paying basis
Major subjects:
For school graduates: Geography + Foreign language
For college Graduates: Geography + Organization of tourist activities